CAIPIRINHA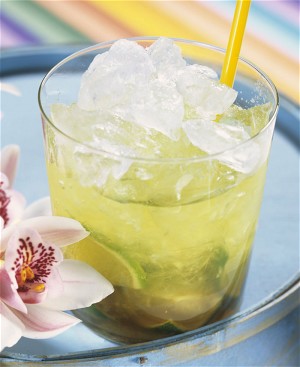 Background:
Caipirinha is the Brazilian drink consisting of lime, sugar, cachaça and ice; simply delicious! The Caipirinha is the diminutive name derived from the word caipira used in Brazil. This is a Brazilian derogatory term used to refer to unskilled (sometimes naive or even stupid) rural residents.

Ingredients for one cocktail:
Cachaça (classic) – 5 cl
Lime – 1 pc
Cane – 2 tsp (white or syrup)
Crushed ice
Preparation:
Wash the lime thoroughly and roll it on the kitchen surface with the palm of your hand to release the juices.
Cut the lime into eight wedges. Cut off the hard white pith on the cut edges as much as possible and remove the seeds (both provide a bitter taste).
Put all the lime wedges (with peel) onto the rim of a glass, such as a whisky glass.
Sprinkle with cane sugar to taste.
Mash the lime wedges with a muddler so that the juice is released from the lime and mixes with the sugar. Do not pound it too hard, because the inside of the green skin (white film) may give a bitter taste.
Fill the glassclose to the brim with crushed or shaved ice (not too finely crushed ice).
Pour the cachaça over the ice and stir well with a cocktail stirrer.


BATIDA DE MARACUJÁ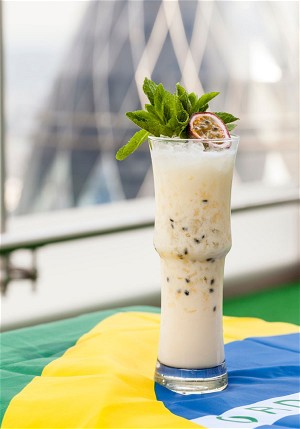 Background:
Batida is a tasty Brazilian summer cocktail. In Portuguese, batida means shaken. Consequently, this cocktail is a kind of fruit shake with cachaça, fruit juice and sugar. In Rio de Janeiro and São Paulo batidas are traditionally served with the Brazilian national dish feijoada. This Batida recipe uses passion fruit.
Ingredients for one cocktail:
Cachaça (classic) – 6 cl 
Passion fruit juice - 6 cl
Limejuice - 3 cl (fresh)
Sugar syrup - 3 cl
Ice cubes
Shave ice
Preparation:
Add the cachaça, fruit juice, lime juice and sugar syrup to a cocktail shaker with some ice cubes or in a blender without ice cubes.
Shake the shaker vigorously (or blend in a blender) for 10 seconds.
Strain through a sieve into a highball glass filled with crushed ice.
Garnish with a wedge of lime and long straws.
CAIPIRINHA BETERRABA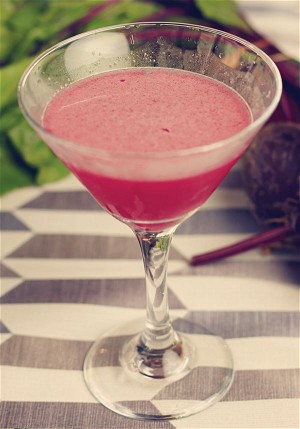 Background:
If you are looking for something different, try the Caipirinha Beterraba. It's a warm, earthy cocktail made with a combination of beetroot, cachaça, lemon and herbs.
Ingredients for one cocktail:
Cachaça (classic) – 40 ml
Cooked beetroot, cut into small pieces - ½ st
Ginger syrup (you can buy it, but can also use the syrup from a jar of ginger) - 2 tsp
Sugar - 1 tsp
Velvet Falernum - 16 ml
Lemon juice - 16 ml
Pinch of salt - pinch
Cayenne pepper - pinch
Preparation:
Crush the beetroot and sugar with a muddler in order to release the juice from the beetroot and mix it with the sugar.
Add the rest of the ingredients.
Shake firmly with ice, strain it through a sieve in a highball glass.
O MÁGICO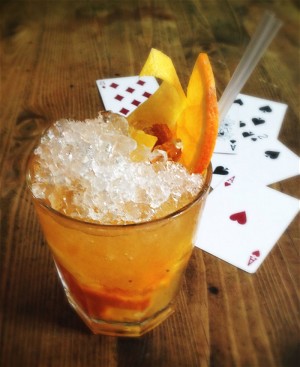 Background:
Welcome to the Brazilian tropics! Whether alone, or enjoying a warm evening with friends or at a dinner party, O Mágico, which translates to "the magician" in English, is sure to create the right mood.
Ingredients for one cocktail:
Cachaça (classic) – 50 ml
Chai tea syrup - 20ml
Orange slice into chunks
Slice of lemon cut in half
Crushed ice
Preparation:
Crush the fresh fruit and chai tea syrup with a muddler.
Add the cachaça with some crushed ice and shake vigorously in a cocktail shaker.
Top if off with more crushed ice and garnish with two pieces of orange.
Sprinkle with cinnamon.
COCO CABANA
Background:

Drink this and you'll be transported directly to the Copacabana Beach. The combination of rum, cachaça, strawberries and coconut automatically provides a holiday sensation, even if you are in the rainy Netherlands in July!
Ingredients for one jar:
Cachaça (classic) – 75 ml
Malibu - 75 ml
Coconut Cream - 50ml
Lemon juice - 50 ml
Sugar syrup - 50ml
Pineapple juice - 90 ml
Coconut water - 180ml
Strawberries, pureed with a little honey or sugar to taste - 100g
Orange, sliced - 1 pc
Lemon, sliced - 1 pc
Preparation:
Pour all the ingredients into a large jug, except for the orange and lemon slices, and stir well.
Fill the jug with ice and stir again.
Top it off with the lemon and orange slices.
RIO 2014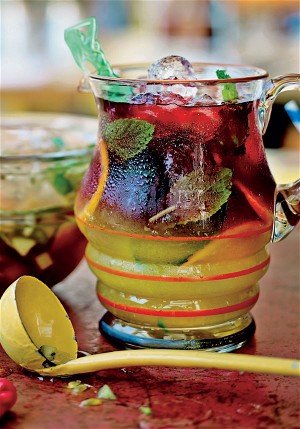 Background:
A tribute to the World Cup and the Brazilian version of sangria: a red wine punch with an extra shot of rum. It's great for sharing and celebrating with friends on a long evening in the sun.
Ingredients for one jar:
Cachaça (classic) – 150 ml
Orange juice - 225 ml
Lemon juice - 110 ml
Sugar syrup (made by heating equal amounts of sugar and water over medium heat until sugar is dissolved) - 100 ml
Red Wine - 225 ml
Orange, sliced - 1 pc
Lemon, sliced - 1 pc
A handful of mint leaves
Ice cubes
Preparation:
Fill a large jar with ice cubes and add the rum, orange and lemon juice and sugar syrup.
Stir the mixture and then add the red wine.
If you want, pour the red wine onto the back of a spoon to create different layers within the can.
Garnish with orange and lemon slices and mint leaves and serve immediately.